"Almost 60 minutes in length, Two Steps Forward, One Step Back is a journey brimming with textures and musical ideas that are often quite fluid. The phrases ebb, flow and build musical bridges, which transport the listener to a resplendent sonic landscape."

James Filkins

CD Review, Minor7th.com, 09 2022

"Phil Schappert has recorded a solo CD, One Size Does Not Fit All, with one guy, four guitars, and four different tunings. His inventive guitar work is a joy to hear. Schappert is also a member of Halifax-based trio, Papilio…"

Jay Pilzer

CD Review, Maritimes Music, 02 2019

"His compositions are often resonant, penetrating and always rhythmic in nature. Unencumbered by ostentatious solos or dynamics, it is the rhythm that drives Schappert's fretwork and compositions. The rhythmical hooks are plentiful and superbly executed..."

James Filkins

CD Review, Minor7th.com, 09 2022
Recent News & New Views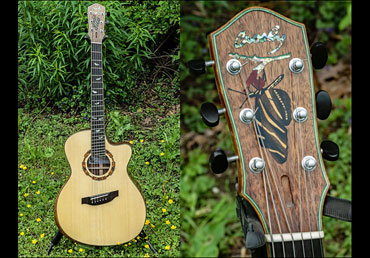 Introducing The Longwing, my
New Russel Crosby Multiscale Guitar
My newest (last?) "tool of the trade" is a custom "small jumbo" Russel Crosby 'Festival Elite' model (Englemann spruce / Claro walnut) with a fan-fret multiscale (25" to 25.75" scales) neck, Venetian cutaway, Ryan bevel, Manzer wedge, Schertler 18:1 open gear tuners, and custom inlays! It looks, plays, and feels, like an OM but sounds a LOT bigger!
Posted 12 2022.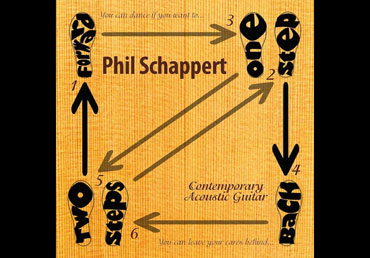 The New CD, Two Steps Forward,
One Step Back, is now OUT!
Woohoo! After a year of hesitations and isolation (y'all know why) that saw all of my best-laid recording plans disappear, I'm happy, pleased and proud to finally announce that the new CD—Two Steps Forward, One Step Back—has dropped! Give it a listen at my Bandcamp page or on the Music / Media page! Download it, cheap, or even better (!!!) drop me a line () to order downloads or a CD!
Posted 06 2021.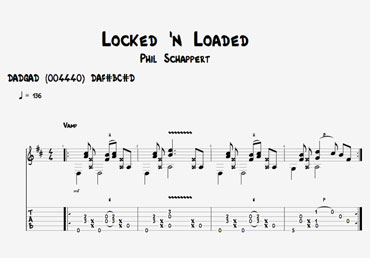 Tablature for All Pieces from Both
Recordings are Now Available!
Transcriptions (notation & tablature) for both albums are available as individual tune Tabs or entire books containing notes and transcriptions of all 15 (17 for the 2021 album) of the original compositions on the two recordings. Purchase single or multiple tabs or entire books with HQ 320kbps MP3s of the tracks. Contact me () for more info or to purchase...
Posted 06 2021.