His Story...
My parents, bless their hearts, gave me my first guitar—a black and gold National electric (think Ry Cooder), that I wish I still had, and a tiny little Silvertone amp—when I was seven. Despite the tender age, I already knew where my heart would take me. And, as I learned in later years, I sucked at sports and needed something to impress the ladies!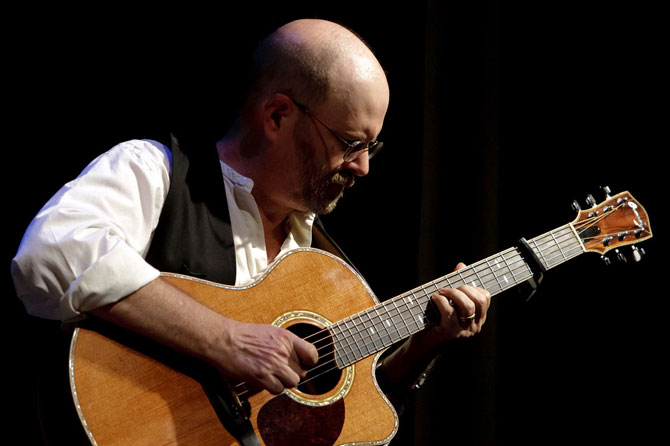 I grew up playing heavy rock but was enthralled by the acoustic bands of the 70s and switched to playing contemporary folk-rock in duo and trio formats, eventually gravitating to country-folk and bluegrass. By my late teens I had stopped playing electric and by my mid-twenties I was studying classical guitar at the Eli Kassner Guitar Academy in Toronto.
But, shortly after I was married (not that I'm not drawing any conclusions here—marriage is a good thing!), I decided that music would have to be relegated to hobby status and that it was time I found a career that I could enjoy as much as I loved music. So I entered a biology undergraduate program at Trent University in Peterborough, Ontario, at the not-so-tender age of thirty. It was the most difficult thing I have ever done, so difficult that I did not touch a guitar for the next 5 years.
During the fifth year, the first year of my doctoral program at York University in Toronto, I discovered Michael Hedges at a music store that was playing "Live on the Double Planet" when I walked in. I almost cried. It had been so long since I'd played and this music was just so, so, damn, words still fail me. Shortly afterward I found myself driving a jeep on the backroads of Jamaica with my dissertation supervisor, popped in a cassette (remember those?) of Michael Hedges, and was promply asked "Is that a new Don Ross recording?" My response was "Who's Don Ross?"
Later that year I got my first great guitar, a Larrivee J-09 Jumbo, and it came with Don's phone number! Studying guitar with Don was another eye-opener. He introduced me to modern celtic music and made me realize that it was cool to break the rules—so much for classical training! After I finished my dissertation (yep, I'm a PhD biologist, and, yes, you can call me Dr. Phil!), and Don had cut me loose ("any more and you'll just be me"), we moved to the backwoods of central Texas where I managed a biology field station for the next decade. There I finally reached a "certain level" of musical maturity, permanently settled on DADGAD tuning, and began composing.
We returned to Canada, settling in the "centre of celtic culture" in Nova Soctia in 2007. Unable to perform in TX thanks to overly-draconian rules & regulations (thanks to the INS and Homeland Security), I welcomed the opportunity to return to music, essentially swapping my vocation and avocation around, and sought out sessions and musicians in and around Halifax. I formed Papilio with flute player Jen Publicover, a bandmate from a short sojourn in a quartet, Fancy's Flight, and violinist Colin Jeffries. When Colin left Papilio to return to his own studies, we drafted veteran violinist Anthony Rissesco and started over, releasing Emergence, a 6-track EP, in 2011. Our first full-length recording, First Flight, has just been released.
During the past year or so, I've also been recording some of the solo guitar instrumentals that I've written over the past 15 or so years. These recordings will eventually culminating in a pair of forthcoming CDs (or a single double CD, if you prefer), Roots, containing the neo-celtic tunes, and Branches, having the contemporary, non-celtic, material. But there's enough material for at least another recording or two, and, the future is yet to be written…